Frequently Asked Questions
We have found customers understandably have many questions when deciding to have work carried out. Here are answers to a number of the most popular.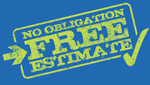 "I will most definitely recommend you to anyone who is looking for building works, and thank you for being helpful, approachable and always having a smile on your face and finding a solution to any problems, it was hugely appreciated."
Mrs P, West Molesey.